Business Links: Submit your monthly specials Here
April 29, 2002
Another great demo/game idea by Renee! aka ScandleUs NeNe

How Well Do You Know Your Hostess?


New Game!
A word search game that Steve created from a website kuarahy sent him to: http://www.discoveryschool.com/. He threw in some of the new summer scents coming out. Can you find them all? Steve plans to use this game at the Hostess appreciation for early birds to kill time while waiting for the evening to begin. Fun idea Steve!

April 22, 2002
http://www.bestofboards.com/baglady/
The fabric has arrived and orders are going out! New turn-around time should only be 3 weeks. Thank you for your patience and shopping with The Bag Lady!

April 17, 2002
www.expressyourselfonline.com
For every $25 purchased on an order that is received during the month of April, you will receive one FREE package of Premium Stickers!
($25 order receives one FREE package, $50 order receives two FREE packages, ...)

Choose your FREE gift(s) from any of our available Premium Stickers. We have over 50 different stickers for you to choose from!
Choose a sticker that is specific to your line of business - Candles, Beauty, Jewelry, Cooking, Kitchen, Lingerie, Baskets, Home Decor, or choose a sticker to help with an area of your business - increase bookings, increase sales, motivate your down line, show appreciation to your hostesses!

April 13, 2002
A&R Marketing: Due to an unexpected 6 month deployment with the Air Force, A&R Marketing will not be able to provide the free conference buttons as previously announced. Renee's deployment begins on Monday, April 15.

April 7, 2002
Brianna's 3 month Photos
Click for larger view

www.roteck.com
New Semi-Custom label. Enter in your own specific door prize requirements and the corresponding number of tickets. We'll re-center the label, print it, and laminate it. It's on sale during the month of April.

April 6, 2002
www.markedimprovement.net
APRIL SPECIAL FOR ALL FIRST TIME CUSTOMERS: Receive 1 full sheet of our new 1" white stickers and 1 new Post-it Notes pad for FREE with your first order of $10.00 or more. That's a $2.24 value!

New! 1" stickers!

White 1" circles (80 per sheet) for only $1.39! Great prices and new designs created just for candle consultants.


New! Post-it Notes pads!

4" x 3" (50 sheets per pad) available in attention getting hot pink and neon green ! Only $0.85 per pad. Larger 4" x 6" pads are also available (in white only).


New! Hostess Kit Mailing Service
By request from some of our existing PL customers. Perfect for bookings made over the phone!

April 4, 2002
SheilaWisconsin's Ireland Trip Pictures! (click for larger view)
Thanks for sharing Sheila - we're so glad you're back!


www.tealited.com/karie
7 New Scents/Colors now available for Votive Roses! 6 New Scents/Colors for Tealight Pops.
Amethyst - Floral Bouquet
Amore Red - Tender Hearts (Votive Roses Only)
Coral Kiss - Passion Flower
Dawn - Sweet Chamomile
Periwinkle - Hydrangea
Petal Pink - Enchanted Rose
Whisper - French Lilac

April 3, 2002


www.thebooster.com
Step into SPRING SALES with 100 NEW Products from The Booster!
Many items are geared directly to the home decor/ candle industry! Order on-line! It's easy and FUN! We have over 900 products to help you "Boost your Sales & Brighten your Image!" Here's a sample of some of our NEW products:



Candy Wrapper for small bite-size candy bars.
"SPECIAL You Just Are!"




This is a NEW, FUN way to encourage guests to BOOK a party or show!


Use this sticker on envelopes to promote how candles can make a difference in their lives!



www.paroncandles.com
Paron Candles is helping you to celebrate Anniversary Month. Place an order of $29.00 or more during the month of April and you will receive FREE SHIPPING. Congratulations to all of you for a great 29 years!!!!!!!


www.scentstacks.com
New! Spring Scent Stacks $6.50
Now taking orders for the new Spring scents. Four Scents $5 ($1.25 each) plus $1.50
for shipping and handling. Allow 2 to 3 weeks before first orders can be
shipped.


www.expressyourselfonline.com
New Conference buttons! Just $1.50 each.



Above & Beyond - Full Color Button (Item # BB-180)
A vibrant new button that can be used to generate energy for National
Conference or spark conversations about the consultant experience.



Above & Beyond - Glow in the Dark Button (Item # BB-190)
Generate enthusiasm with this fun new button! Be sure to wear it at
Conference and shine while you are in St. Louis.



www.bestofboards.com/flamenglos


New Teal Candlelighters! These new lighters will be similar to the one pictured, only solid teal with black trim. Silver lettering on each will read: "Flame Low? It's Time to Book a Show!". These will be available in mid-May, but we're offering a Pre-Ordering special in April. Pre-order now until April 30th for only $1.25 each plus shipping and handling, regardless of quantity ordered.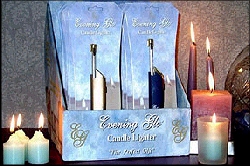 place your pre-order today!
March Sale Extended! New Evening Glow Candle Lighter. This refillable butane lighter has a steel extension tube for lighting candles. No more burned fingers. Child resistant safety ignition. Assorted Colors (blue, black, champagne and grey). Regular price $2.50 - on sale through April for $1.80 each! (plus S & H)

April 2, 2002


www.consultantcorner.org
April Specials: A dozen Polycons for 1 penny! (you pay shipping only, and tax if applicable).
Plus, buy 1, get 1 FREE of the following products:
Tealight Lollipop Kit, Bath Salts, Water Crystals, and five different sized Recloseable Bags, in sizes ranging from 2"x1-1/2" to the largest - 9"x12".
New Products! 24 new products are being introduced this month. To name a few:
Polycon Containers

These durable 1/4 oz hinged containers are perfect for samples!

Organza Gift Bags

These Drawstring Bags are perfect for that special hostess gift!. Very pretty filled with confetti and Bath and Body products inside.

Clear Vinyl Gift Bag

Clear Vinyl bag 6" diameter and 11" high.
Pink bottom with Snap close top strap and carry handle.

Squeeze Bottle

2oz. plastic squeeze bottle perfect for liquid samples
This page last updated July 06, 2005