1/23/03
Cruisin' For Candles submitted by dbrown17, credit to Becky N.
Votive/Tealight List (goes with the Cruisin for Candles letter)
Suggested Worksheet/Order Form (dbrown17 - 4 pages)
Suggested Order Form (JasaVA - 1 page)
More information on HOW to do it? Here's the post!

1/21/03
Lavish Labels Submitted by Jasa. Photos by Steve Tucky with some editing by tealited. Print these using Avery Label format.

Door Prize Slip for fairs and festivals submitted by Lissa

New Fundraiser forms added to Downloads page

Votive fundraiser
submitted by Melissa (Meldaytes)
Lavish Fundraisers
submitted by Lara

1/20/03
Congratulations to the Scavenger Hunt winners!
1st prize winner:
Jacquie
2nd prize winner:
Chiquita Bunny
3rd prize winner:
AlysiaX
You can see all the correct answers listed on the message board
Thank you to all of you who participated in the BoB/Tealited Rotating Banner Scavenger Hunt!

1/15/03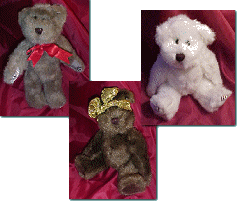 New Items!
HELP Cocoa, Mocha, and Marshmellow find a new home. Starting at $10, you can customize and ship one of these adorable bears to that someone special.

1/14/03
It's a BoB/Tealited Rotating Banner Scavenger Hunt!
Time for some fun! Go here for all the rules and instructions as well as entry form. PLEASE read ALL the instructions before you proceed. The hunt will begin now and end on Friday evening when we draw the winners. I think I have covered any questions you may have but if you need help, direct all questions to jackie@bestofboards.com
Look at the awesome prizes the Rotating Banner Business Links have donated for the prize winners! (Click on pictures for larger view and detailed prize list)
FIRST PRIZE:

SECOND PRIZE:

THIRD PRIZE:


Be sure and thank the Rotating Banner Business Links for their donation of prizes for this fun game!

Now get your keyboard fingers ready to go and have fun hunting down the answers! ~jackie
1/8/03
New 2003 Candle Colors & Scents Chart -Woody


1/7/03
January Special!
Happy New Year from Consultant Creations! Get your catalogs and mailouts ready with our Personalized Glossy Address Labels! Large Address Labels are only $1.79 for a set of 30 labels and Small Address Labels are $1.79 for a set of 80 labels! Take a look at our great selection of stickers and other great products to help build your business this year!

1/6/03
New for January!
Marked Improvement has added 7 new postcard designs to the popular new line of multi-color postcards. Great pricing at 20 for $2.00 - view all the designs in their online catalog!

MI has also extended their 5 sticker sheets for $5.00 and 4 post-it notepads for $3.00 special through January.


1/6/03
January Special!
FREE SHIPPING on orders of $10 or more! Orders will be shipped: First Class, Priority Mail or UPS Ground - based on package weight. In stock inventory only. Effective January 1 thru January 31, 2003. See full details at Directly From The Heart
Stock up on stickers, buttons, calendar reminders, postcards, post-it's and more!


1/5/03
New Products & January Special! We have some new products to help our Candle Consultants promote the new pampering products! Buttons, keychains, kits, samples, Relax and Rejuvenation Packs and more!
Our January specials include 1/16 oz hinged lid containers - $13/100; 1/8 oz. $15/100; 1/4oz $17/100; Paint pots $12/25. Valentine Recipe Cards and Wax Kit on sale! Spatulas $2.29/Bag! Be sure and visit our site to find the hidden and be entered in our monthly drawing!

has moved!
Karie's Kandle Roses now has a new home - www.karieskandleroses.com Please update your bookmarks! New email is karie@karieskandleroses.com
January Special! Buy 1/2 dozen Tealight Pops or Tealight Angels (designated scents) and receive 1 red Tealight Heart Stand FREE! Also, buy 3 Votive Roses (designated scents) and receive a FREE glass bud vase!




January Special
For every $25 purchased on an order that is received during the month of January, you will receive one FREE package of Premium Stickers! ($25 order receives one FREE package, $50 order receives two FREE packages, ...) Choose your free gift(s) from any of our available Premium Stickers. We have over 50 different stickers for you to choose from! Go to www.expressyourselfonline.com to check out the special!

1/1/03
January Special
Popular Teal Candlelighters! Silver imprinted lettering on each reads: "Flame Low? It's Time to Book a Show!". Great hostess gifts - stock up now - order with a friend! Email flamenglos@aol.com to place your order, view more details on the www.bestofboards.com/flamenglos webpage! While supplies last - FREE shipping on teal candlelighter orders of 120 candlelighters or more.

January Special
Need sample containers to pass out sample of lotions and shower gels? The simple and easiest answer is POLYCONS. Paron has them in several sizes to meet your needs. During the month of January buy 10 packages of the SAME size and we will send you the 11th set free. Stock up and start passing out samples and watch your sales soar! Visit Paron at www.paroncandles.com for candle consultants and www.paroncosmetics.com for bunny consultants.
This page last updated 07/06/2005
Best of Boards Through The Years

1998
1999
2000
2001
2002
2003
2004