[Express Yourself Online] [Betty Boop Game] [Price is Right Game] [Phone Script - Elimination List] [1999 Elimination List] [Building Strong Consultants] [Power Statement] ["True 3x9"] [Hurricane Shade Uses] [Cookie Party] [Six Scents Game] [Current Hotline Info] [Got Ya Covered Table Covers] [Christmas Carols - PL Style!] [Cards By Shelby] [Killer Kollectables - T-Shirts]
November 27
Cold-Calling the Guestlist Monique (from the candlepartytoo list)
November 26
Two New Business Links!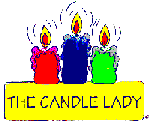 Awesome Long-Sleeved T-Shirts with a custom designed Candle Lady Logo! Available in white, red, or navy in sizes Small through 2X. The graphic is also available on checkbook covers and pinback buttons so you'll always have a conversation starter with you!
Lisa Killer is a Consultant in Topeka, KS - ready to ship your order today!
Check out the website under Business Links; Suppliers - Killer Kollectables

Beautiful handpainted watercolor Notecards perfect for inspiring, motivating, or thanking a special consultant or hostess. Cards are painted on elegant antique parchment cardstock, and are blank on the inside. Sold in sets of 12, 2 of each of the 6 designs, they are ready to ship immediately!
Take a look at Shelby's beautiful artwork today:
Business Links; Suppliers - Cards By Shelby
November 25
from the BoB Message Board
Well - we have a star amongst us!
("Let it snow tune")
Oh tonite you're gonna get an eyeful,
And our Hostess is so delightful,
See the candles all a-glow,
BOOK A SHOW! BOOK A SHOW! BOOK A SHOW!!!

Well tonite we're gonna do some shoppin',
The purchasin' they'll be no stoppin',
But our candles you should never blow,
LET EM GLOW! LET EM GLOW! LET EM GLOW!

When our candles you decide to burn,
By bookin' a party tonite,
A Holiday shoppin' spree you earn,
All this a gift from [PL]!

Now my words tonite our inspiring,
This business is the greatest NO LYING!
So if our candles you decide to show,
YOU WILL GLOW! YOU WILL GLOW!! YOU WILL GLOW!!
("12 Days of Christmas tune")
I have each day written on a piece of construction paper & tell the hostess we need at least 11 people at her party to play (I am the 12th). I hand out a sheet to each guest & tell then they cannot reveal their day until their day comes up in the song, then they turn it over to reveal it...we go thru the whole song &then I do my sponsoring talk afterwards explaining each day!

On the first day of Christmas [PL] gave to me:

*A bonus when I hit "18"

2nd day: 2 Hostess Specials
3rd day: 3 3 wick candles
4th day: 4 weekly paychecks
5th day: 5 NEW BOOKINGS!
6th day: 6 new consultants
7th day: 7 dozen votive
8th day: 8 floating candles
9th day: 9 2+2 calls
10th day: 10 parties a month
11th day: 11 buying guests
12th day: $1200 a month

They guests love it and it makes it a fun way to introduce our wonderful business with a Holiday flare & to tell them My Christmas is paid for & that trying [PL] is the BEST Christmas present they could give themselves! So give it a try...Everyone loves to sing Holiday songs even if they don't normally sing...They get caught up in the spirit!!!
November 13
Another new Supplier on Business Links!

Awesome custom table covers made by a consultant - Tammy Anderson - Take a look at Got Ya Covered's new web page - there are five designs to choose from in either traditional black or hunter green - The fabric is wonderful - a poly/crepe blend that drapes beautifully - I love mine. All orders placed in the next 2 weeks will receive a free matching drawstring bag - you can see pictures on the new webpage of both the table covers and the bags. These would make great gifts or incentives!
Current Hotline Info (click on the new button at the left)
Pillarnet's been a bit frustrating lately - no promises but I'll TRY to post a copy - remember - this is not THE Company site - it's a copy of the most current info I happen to have. Remember - no matter how frustrating it is to not be able to get on the internet version of Pillarnet - you can ALWAYS pick up the phone and call Pillarnet. 508-747-4533 No, it's not toll-free - but it is NOT that expensive. Get your tracking numbers for your shows that way, then access the direct UPS tracking on the UPS website. Ask yourself this question - "Will getting frustrated and angry about the situation change it?" Not very likely, just deal with it using an alternative method and you'll feel better at having used your time more productively!
November 11
Six Scents Game Tammy Care
(from the old candleparty list - 11/9/98)
Cookie Party Diane Knowlton
(from the candleleader list - 11/1/98)
I have heard of "cookie parties" to get hostesses to book in December. For a cookie party, each guest would make several dozen of her favorite or best cookies. When the guests arrive, they trade some of their cookies for some of someone else's. So, for example, when I go (I would take cookies too!), I'll take 8 dozen of one kind of cookies (the more you take, the more you bring home). If there are 8 guests, I'll trade each guest a dozen of my cookies for a dozen of theirs, and I'll go home with a dozen each of 8 different kinds of cookies!!! Also you should tell each guest to bring their recipe.
Additional Uses for the Hurricane Shade Mel V.
(from candlecyberunit list 12/6/98)
Many people have hurricane shades already so I looked for ideas to get them to buy accessories for their shades. I demonstrate hurricane with the Cradle to preserve their Homecoming Mums or Garters (for the football boys) or corsages from proms or Cotillions. I also suggest it would be great as a bridesmaid's gift (with hurricane) so the bridesmaids could preserve their bouquets after the wedding. In South Texas we have Quincianeras which are celebrations of 15th birthdays -- hurricanes and cradles can hold those bouquets as well. If the customers don't have teenagers anymore I suggest using it in combination with the Blue Bayou to hold Christmas balls and tinsel. You loosely pack tinsel and blue or blue & silver balls in the shade on top of the Blue Bayou and its a very pretty Christmas arrangement. For a Victorian theme, use the ivory three-wick holder as a base and then use lace & ribbon instead of tinsel. The trick is to show them that they really need something from us to compliment their hurricane.
And One For the Fun of It...Cheree
(Candleparty list 1/99)
Here's what I do depending on the age and type of crowd. I will hold a 3x9 pillar candle and say "This is a true 3x9 no matter what you have been told." At first they kind of just look at you and then it sinks in and they all start to laugh!!
Then I show them how to use the library lamp as a weapon. For those who don't know. DO NOT LIGHT AT THE START OF THE SHOW! Then when showing them how the candle goes in I will say now in the middle of the night when you hear that strange sound you can go and get your lamp untwist the candle aim and hold fire when ready. If by chance you miss you can always play Clue and do the deed in the library with the candle stick.
November 10
An Awesome "Power Statement"
from Jim Lipsky - check your Reflections Magazine under Record Breakers!
November 9
"Building Strong Consultants" from Jo Mellilo, Ready! Aim! Fire! Unit
About the "Elimination List"
Enough has been said all over the lists and boards regarding the timely release of information from the home office all the way down to consultants and whether it should or should not be shared! The reality of it is, the elimination list is a valuable sales tool - not just for consultants to help book shows, but for the company as well. It is in their best interest to "move through" products that are going out of the upcoming catalog BEFORE doing any markdowns on them. It impacts the profit and loss of any company to mark down products that are being discontinued - anyone who has ever worked in a retail environment knows that the more product you sell at full retail the stronger your bottom line is! Stronger bottom line = more available capital/revenue to pour into new products, more available inventory, new incentives, and happier shareholders/employees/salespersons/consultants/whatever!
On that note - here is a positive light shining on the heavily debated elimination list subject form the lists. Thanks Fran!
Elimination List Phone Script from FRAN NICHOLS
November 4
The Price Is Right Game Kara Corban
November 3
BETTY BOOP GAME Darjovgo@aol.com
Many of you are already familiar with Express Yourself - a great mail-order source for business building stickers, postcards, buttons, and many more specialty items designed to help you promote your business.
I am so pleased to have been working with Donna Ellis in the last two months to completely re-design their website - and you are the first to see it! Parts of the site are still under construction - but you can view ALL of the new product for Candle Consultants at the new ExpressYourselfOnline.com!

Some highlights:
Matchbooks...Gift bags...License Plate Frame...Bank Deposit Bag...Checkbook Covers...Stick Pens...Clear Gift Bags...Adult & Child T-shirts...Holiday Ornament...new stickers, new rubber stamps...Laminated Hostess Program Visuals...and my personal all-time favorite new item - an I Love Candles Mousepad!
The VERY BEST Mousepad you'll ever use! Not just a great design, but the best "mousing" surface of any!

Also pictured:
Window Cling & Stick Pens
"I (heart) Candles" for Adults

"Ask My Mom"
for children!
Goodie Bags, Hostess Gifts, Consultant Gifts, Unit Promos...the ideas are endless for using many of the new specialty items in the new Express Yourself Brochure!

Check out the Tips & Ideas page on the new ExpressYourselfOnline Website

Items pictured: Paper Gift Bag, Clear Gift Bag, matching PS-210 Sticker, and New Matchbooks!